Aluminum Strainers
Wood is vulnerable to environmental conditions that left uncontrolled will warp. Aluminum Strainers provide a dimensionally stable support that withstands greater fabric tension and is guaranteed to never warp. Our strainers are simple to hang on french cleats and because fabrics cannot produce an impression in the perimiter over time as in wood supports aluminum strainers can be re-stretched over and over again.
Structures can be purchased bare or stretched with one of our fabrics. Please see our surfaces page. For additional corrosion protection we offer optional anodized coating.
ALUMINUM STRAINERS with polyester backing
The polyester under-layer gives extra rigidity to the surface. This is a superb, light-weight, non warping solution to wood panels. Note: High tension polyester requires the use of additional cross braces.
FOLDABLE ALUMINUM STRAINERS
We can convert our rigid aluminum strainers into foldable structures to assure paintings will fit through the door.
More Info Here
KNOCKDOWN ALUMINUM STRAINERS
1.5″ deep only.
More Info Here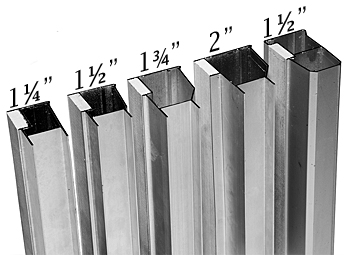 Available Perimeter Depths